Google Digital Unlocked
Google Digital Unlocked Certification Course is a free Google certification course.
Today, our on-line skill is a lot extra than simply checking emails. From speaking to family and friends to doing the weekly meals store, find new vacation locations, and researching issues to do regionally. The web world could be very a lot part of our every day lives.
As the time we spend on-line will increase, so do the digital alternatives accessible. The on-line expertise is consistently evolving due to content material creators, companies, and app builders.
They are capable of finding new and revolutionary methods to assist our store, study, and join.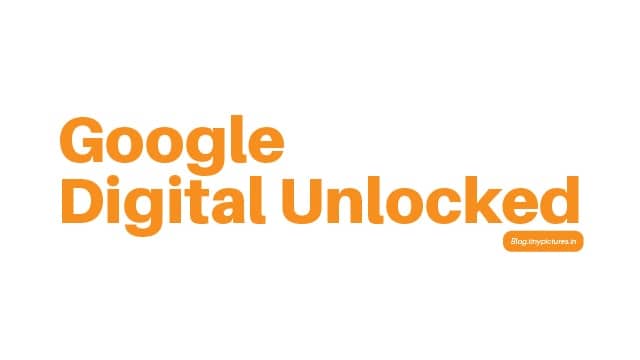 Google has offered a free Google certification course Google Digital Unlocked for all those who want to get expertise in the field of Fundamentals of Digital Marketing.
When people ask me about its importance, my reply to them is very simple. Getting a certification from Google is to bring your dreams into reality.
Google Digital Unlocked
STEPS TO REGISTER
To start with Fundamentals of Digital Marketing Google certified course you just need to follow few steps.
Enter the website address in the address bar https://learndigital.withgoogle.com/digitalunlocked.
It will offer two options Sign in and Register. If you have already registered earlier don't do it again and click on sign in, but if you are doing it for the first time click on Register.
Google will provide two options, Sign in with google and Sign in with email.
Once you click on Sign in with Google, it will ask for an email id. Select the appropriate email id for which you want the certificate. If the email id is not in the listing click on Use another account.
Once you click on Sign in with email the computer will take the appropriate email id through which you have logged in.
Enter your email account details.
Do not forget to preserve the password, as you will need it whenever you will continue with the course.
Click on Online Courses and select Fundamentals of Digital Marketing Course.
It is a 40 hours course of 26 modules.
Go through the video or transcript of each module and accordingly answer the questions.
Each module comprises of different terms related to digital marketing.
You can attempt for a maximum number of times as there are no such boundaries.
Once you have completed all the 26 modules you have to clear the set of 40 questions to get the google certification in your name.
CONCLUSION
So whether or not you personal an enterprise your self or wish to work for one now is a superb time to leap in and see how one can get entangled within the digital world.
Learn how to construct a web-based enterprise technique, enhance how an internet site ranks on search engines like google, and use analytics instruments to know on-line efficiency. Whatever your curiosity, there's a subject right here that can assist you to t your on-line objectives.
No matter what your talent stage is or what you'd like to realize, Google Digital Garage will show you how to construct your digital advertising expertise. Improve how what you are promoting performs on-line, enhance your CV, or simply leap in to study one thing new.